Discover the housing trends for the greater Fredericksburg VA Region for this month (September 2021).
Each month, we go over the days on market, closed sales, and months of supply for each of the following counties in the greater Fredericksburg VA area:
Fredericksburg
Orange
Caroline
King George
Stafford
Days on Market in Fredericksburg VA and Surrounding Areas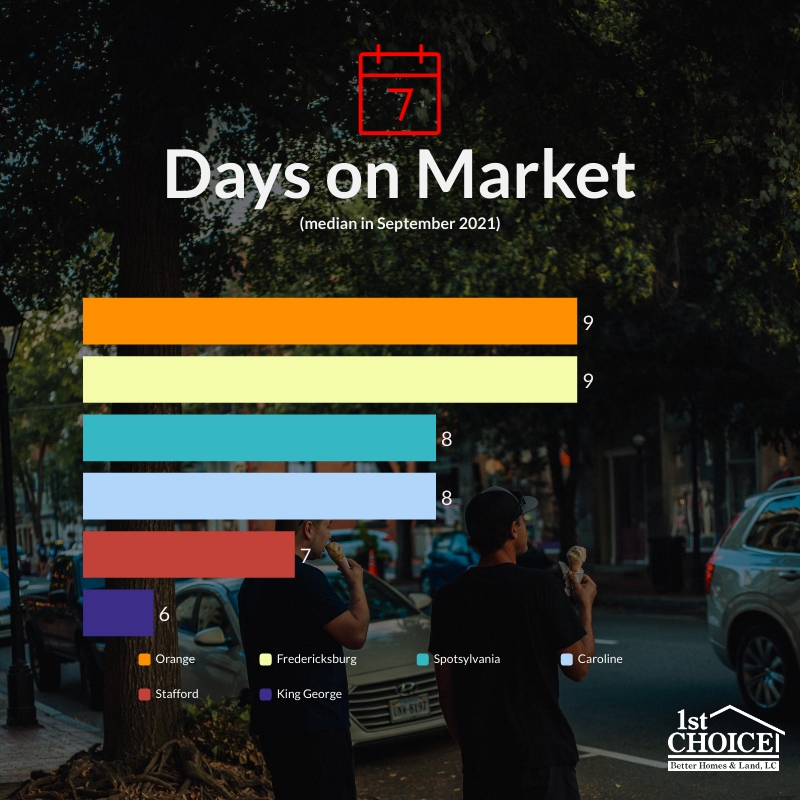 A range of 6-9 days on market
King George: lowest amount of days on market
Both Orange and Fredericksburg: highest amount of days on market
According to the chart above (source: getsmartcharts), we see that both Orange county and Fredericksburg county have a median days on market of 9 days. Both Spotsylvania and Caroline are tied for 8 median days on market, and Stafford is 7 days on market. The lowest days on market is King George with 6 days on market.
Closed Sales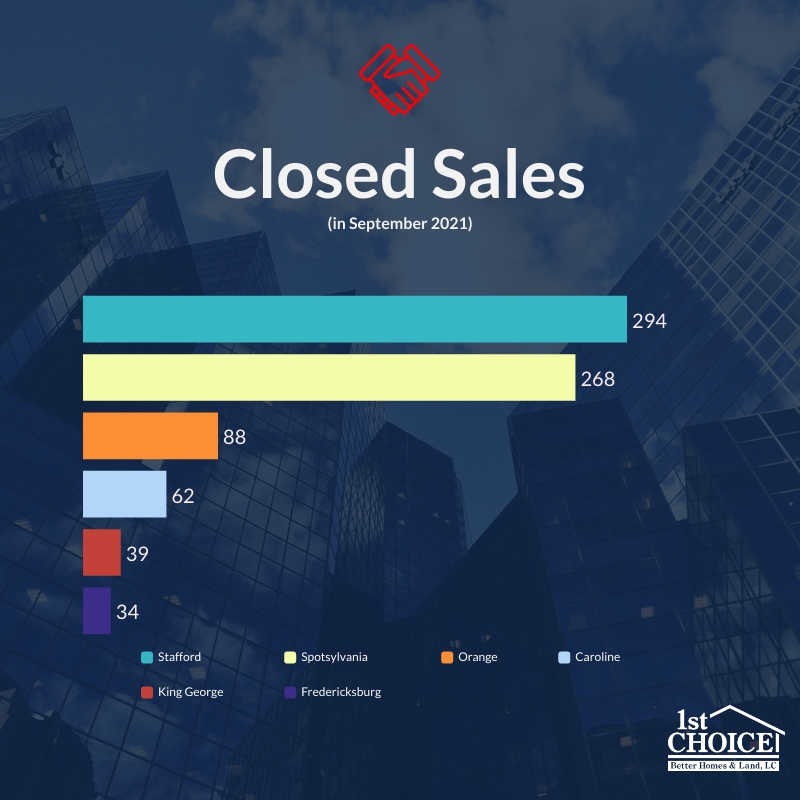 A wide range of 34 closed sales, all the way to 294 closed sales
Stafford: leader in closed sales
King George and Fredericksburg: lowest number of sales
In reference to closed sales, we see that both Stafford and Spotsylvania have the most sales with 294 homes sold and 268 homes sold, respectively. In 3rd and 4th, Orange and Caroline are significantly lower with 88 and 62 homes sold, respectively. Finally, King George and Fredericksburg have sold 39 and 34 homes in the month of September.
Average Sales Price
Prices are averaging from around $300K to upper $400s
Spotsy and Stafford have the highest average sales prices
Orange brings up the rear
Let's move on to the average sales price of homes sold in September. Spotsylvania and Stafford both are selling at $470,230 and $462,632, respectively. Fredericksburg and King George fill out the middle with $405,779 and $398,871, respectively. Orange is selling at the average of $353,905. Finally, Caroline averages $308,514.
Months of Supply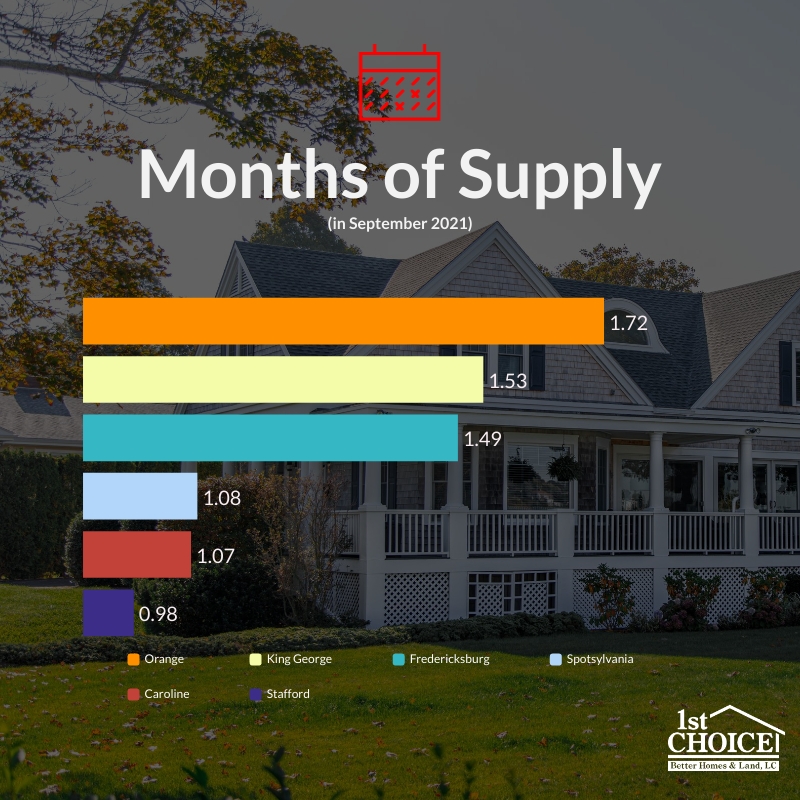 Very much still a seller-driven market as 0.98 months of supply to 1.72 months of supply are available
Orange county currently holds the highest supply
Stafford has less than a month of supply
As we mentioned last month, we had a 2 month supply for homes going into the month of September. This seems to be the case still, dependent on the location. Orange county has the highest supply of homes with 1.72 months followed by King George and 1.53 months of supply. Then, Fredericksburg has 1.49 months of supply, rounding out the top three. The three counties with the lowest supply are Spotsylvania, Caroline, and Stafford with 1.08 months of supply, 1.07, and 0.98 months of supply, respectively.
Takeaways from this Month's Charts
In comparison to September 2020, the average sales of homes have skyrocketed by around 14%. That being said, we are seeing only moderate growth when compared to last month (1.72%), and a majority of that change comes from King George homes sold. And, as we look across the Mid-Atlantic Region, there is a dip by around 4% of average sales prices. Supply is still precariously low especially for areas like Spotsylvania and Stafford, who are selling in a little over a week at higher prices than the other areas.